¡Hola babies! Es año nuevo, el 2018 pasó rapidísimo quién diría que ya estamos en Enero, realmente sigo en shock porque el tiempo se me pasa volando. Ahora sí empieza la cuenta regresiva de mi regreso a Japón, estoy super emocionada, espero todo salga tal y como lo planeamos y sea otro viaje increíble, esta vez iré con más ahorros así que agarrense porque planeo comprar mil cosas, especialmente ropa y maquillaje. En fin, la entrada de hoy son los must have de la temporada, me gusta mucho ver las revistas Japonesas y las street snaps, de ahí saco las prendas, colores o patrones que veo se repiten mucho en los outfits y por ello son un must have de la temporada. Lo bueno es que este tipo de prendas las puedes encontrar en cualquier parte, no es obligatorio que compres solo la marca japonesa, online hay muchas opciones buenas y baratas. ¡Espero les guste!
Hi babies! Is a new year. 2018 passed too fast, I can't believe we are in january al ready, I'm in shock. Now the count down for my next trip to Japan starts, I'm so excited, hopefully everything go as I planned and we have an amazing trip, this time I'm saving a lot of money so I can buy tons of makeup and clothes, wait for it! Anyway, today's post is the must have of the month, I like to see a japanese magazines and street snaps in which I take the main items, colors and patterns the ones that repeat a lot and for me are the must have of the season. The good thing is that you can find this items anywhere not only in japanese brands, there's a lot of options online that are still good and cheap. Hope you like it!
Para esta ocasión me basé en la revista Popteen Edición Enero 2019, más scans los pueden encontrar aquí. Como todavía seguimos en inverno las recomendaciones que les dejaré aquí son enfocadas en esa temporada, así no moriremos de frío y nos veremos super kawaii. Al hojear la revista entre los tantos outfits que arman en las modelos destaqué lo siguiente, pues es lo que noto se repite mucho más y además se está usando mucho en los diseños que han lanzado las marcas para la temporada. Estos son: blusas con moño, suéteres rojos, cardigans, y faldas de cuadros en este caso tweed. Además de las infalibles berets que el año pasado se pusieron de moda y siguen siéndolo hasta este momento, pero para cambiar un poco les pongo berets con otros materiales, detalles o patrón. Además de los accesorios que se están usando mucho, puedes no usar collar o pulseras pero nunca faltan los aretes, en este caso los tipo pendientes, han sacado modelos tan hermosos y juveniles, quitándole el aire ostentoso o aseñorado que a veces suelen tener.
For this time I based on the magazine Popteen January 2019, for more scans you can find it here. As we are still on winteer my recommendations are foccused on warm clothes so we don't die in this cold but still we can look kawaii af. As I looked through the pages of the tons of outfits that you can find there the things that stood out for me was the next, is what it repeats the most and also a lot of brands have been using it on the last designs. The items are: tie neck blouses, red sweaters, cardigans and tweed skirts. Also you can not miss the berets, they started to get on trend last year the their popularity hasn't slow down, in this case I'll show you some examples in other materials, details and patterns. For the accesories the most wearable for the season are the drop earrings, it doesn't matter if you don't use necklacle or bracelets but you can not let out the earrings and lately a lot of cute and juvenile drop earrings have been coming out.
Todos los ejemplos de cada artículo los encontré en SHEIN México, pues ahí es de donde usualmente pido mi ropa, se me hace mucho más fácil comprar ahí pues ya conozco y confío en el servicio, además siguen actualizando su catálogo conforme las tendencias y no solo las occidentales sino también las orientales, siempre ahí puedo encontrar los gemelos de la ropa de marcas japonesas, sólo es cuestión de buscar bien. Traté de elegir artículos baratos, de todos modos pueden usar mi código
Q1itsaqu15
para obtener un 15% de descuento en su compra válido en todo el sitio de México (en la compra mínima de $1,300 MXN). Definitivamente pediré prendas de este tipo para armar nuevos outfits este año.
All the examples of the items I found them on
SHEIN México
, cause is there I usually order my clothes, is easier for me to buy from there since I already know the store and I trust their service, also they keep up dating their catalog with trendy clothes not only western trends but also asian trends, I can always find the duplicates of the japanese brands I like. I tried to picked the cheaper items, but you can always use my code
Q1itsaqu15
to get 15% off on your purchased, valid on the Mexico site (with the minimal purchase of $1,300 MXN). I will definitely order clothes like this for my outfits of this year.
Hoop Chain Drop Earrings | Heart & Faux Pearl Design Mismatch Earrings | Faux Pearl Beaded Hoop Drop Earrings
Los aretes en pendientes son ideales para darle un toque especial a tu outfit, en lo personal amo todos los aretes pendientes en forma de corazón, aunque también el clásico aro están hermosos. Últimamente también se están popularizando los pendientes con detalles de perlas en ellos. Les dejo tres ejemplos de pendientes con mis detalles favoritos, corazones, diamantes y perlas, además en color dorado.
The drop earrings are perfect to give your outfit a special touch, personally I love the earring with shape of hearts but the classic ring shape is ok too. Lately they have been getting popular the details of pearls in them. I'll leave you three examples of drops earrings with my fav details, heart shape, diamonds and pearls, also golden color.
Plain Beret Cap | Leopard Beret Cap | Faux Pearl Embellished Beret Hat
Las berets se volvieron bastante populares desde el 2017 y hasta la fecha siguen siendo un must have item, afortunadamente ahora hay más opciones de beret en cuanto al material, colores y detalles que tienen en ella, desde bordadas hasta perlas y pompones, estos detalles lo hacen ver aún más cute. Definitivamente la beret de la temporada sería el de estampado leopardo, ya que el leopardo se ha vuelto trendy entre las prendas y sino quieres utilizar este estampado en prendas principales usarlo en la beret es una opción perfecta.
The berets became popular since 2017 and until today they still a big hit, luckly theres a lot of options on materials, colors and details, since little poms to pearls. Definitely the beret os the season is the leopard print, since the leopard has become really trendy but if you dont want to wear that pattern on a main item of your outfit the berest is the best option.
Pocket Patched Open Front Flecked Cardigan | Open Front Drop Shoulder Sweater | Open Front Bishop Sleeve Jumper
Ahora por el frío un clásico es utilizar un cardigan, los más vistos en la revista Popteen son en colores marrones, amarillos y claros. Además pueden ser tejidos o peluditos, esta opción es buenísima para realzar tu outfit sin opacarlo ya que al ser abierto deja ver lo que armaste debajo.
For the cold weather the cardigan is a classic, the most seen on the Popteen magazine are the ones with brown colors, yellows and light colors. Also they can be knitted of furry, this last option is perfect to make your outfit even more cute without covering the outfit you put together underneath.
Pearl Beaded Bishop Sleeve Jumper | Mixed Knit Drop Shoulder Jumper | Drop Shoulder Solid Jumper
Los suéteres rojos quedan preciosos, no sólo por las festividades de la temporada sino también porque quedan bien con cualquier color de ropa, además le da un acento al outfit. Pueden utilizarse en diferentes materiales, en lo particular me gustan los que son tejidos y además tienen algún detalle ya sea perlas, el tejido tiene algún patrón en especial o un bordado.
The red sweaters are so lovely not only for the holiday season but also they matched really well with any color of clothes, besides they give the outfit a nice highlight. They can be find in different materials but I like the most the one that are knitted, if they have any extr detail like pearls even better.
80s Tie Neck Bishop Sleeve Blouse | Rose Tie Neck Blouse | Tie Neck Bishop Sleeve Blouse
Las blusas de moño son un clásico desde siempre, y últimamente se han vuelto más populares, me gustan porque le agregan un toque ligeramente formal al outfit, pero al mismo tiempo se ven cute por el moño, vienen en diferentes colores, materiales, y mangas, mi favorita son las que son en mangas tipo lámpara y con olanes.
The tie neck is an always classic, and lately has becoming more popular, I like that it give a light formal touch of the outfit, but at the same time it looks cute because of the tie, it comes in different materials, colors and sleeves, my fave is the bishop sleeve and the one with ruffles.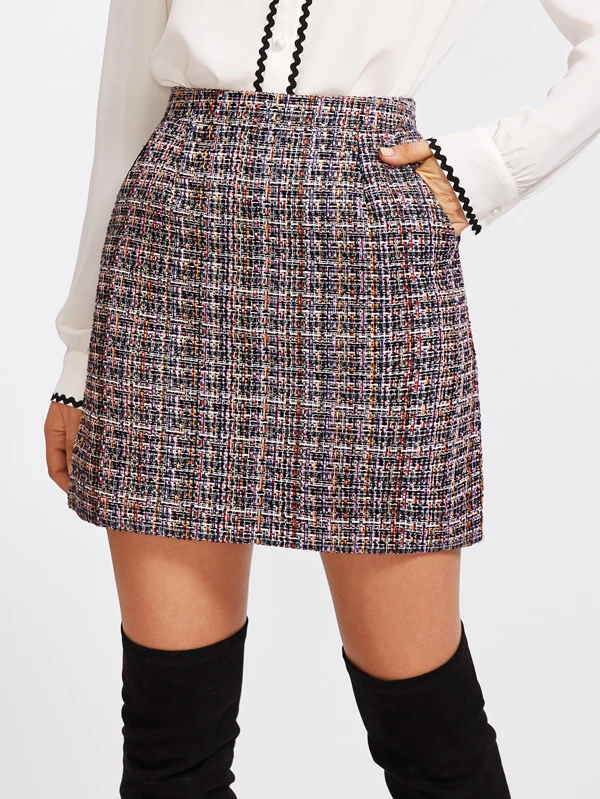 Plaid Tweed Skirt | Zip Back Tweed Skirt | Zip Detail Tweed Skirt
Por último las faldas de cuadros, pero tweed, este es un tejido de lana áspera, cálido y resistente, originario de Escocia. Estas no suelen ser elásticas pero son muy suaves, son perfectas para la temporada porque son calientitas, el tejido puede ser de diferentes tonalidades, mis favoritos son los tonos rosados y grises, sorprendentemente en este material prefiero los colores mas claros a los oscuros. Aquí les puse tres ejemplos con diferentes detalles, una con adorno de botones, otra con bolsillos y por último con zippers.
At last the checked skirt but in this case tweed, this is a fabric made of rough, warm and resistant wool, originally from Scotland. These skirts are not elastic but are really soft and are perfect for this season cause they keep your legs warm. The fabric can come in different colors or tones from light to more deep. Here are some examples with different details, one with buttn details, other with pockets and last with zippers.
¿Cuál es su favorito de la temporada? Para mi son los pendientes y las blusas de moño, pienso agregar algunos a mi closet, creo que no solo quedan perfecto para salir sino también para la oficina al menos las blusas, se ven formales pero cute. Chequense el resto de los scans de la revista, también hay unos lindos tutoriales de maquillaje para que obtengan el look completo. Los links de todas las prendas están debajo de cada imagen en su respectivo nombre aunque también si hacen clic a las imágenes los llevará directamente a la tienda, algunas de estas prendas están en descuento así que es la oportunidad ideal de pedirlas. ¿Qué otra prenda sería su must have del mes? Yo creo que en los zapatos viene perfecto unas botas pero las cortas que llegan al tobillo, esas se ven preciosas. Si quieren alguna otra entrada en especial no duden en pedirla, mi proxima entrada quien hacer de marcas de maquillaje que son cruelty free y además super cute, varias de las cuales he probado y son buenísimas. No olviden suscribirse al blog y a mis redes sociales, espero este año sera buenísimo para el blog, que siga creciendo con ustedes, no puedo creer que ya son 6 años de que está vivo. ¡Muchas gracias por todo el amor y apoyo siempre! Les mando besos ❤
Which one is your favorite? For me are the drop earrings and the tie neck blouses, I want to add some items like this to my closeth, I think it will look good not only for going out but also for the office, they are formal but still cute. Check out the rest of the scans of the magazine there are also cute makeup tutorials to get the full look. The links to each items are below each photo you can just click the link or even the photo. Some of the items are on sale so don't miss the chance to get yours. Which other item will be your must have of the month? I think the ankle boots are also a hit for the season, they look really cute with any outfit. If you have any request for post just leave a comment below with your ideas, for my next entry I want to share my list of fav cruelty free makeup brands, they are not also friendly with animals but also have super cute presentation, I have tried some of them and I love the quality. Don't forget to suscribe to my blog and my other social media, hope this year the blog keeps growing even more with you babies, can't believe it's been 6 years. Thank you so much for all the love and support always! ❤